Stephen Cripps. Performing Machines
Jeni Walwin contributed an essay on Cripps' drawings to the catalogue published for the exhibition, Stephen Cripps: Performance Machines at Museum Tinguely, Basel, 21 Jan – 1 May 2017.
Stephen Cripps (1952–1982) was an innovative and experimental artist. His performance works developed out of an interest in kinetic sculpture and redundant machinery as well as with a fascination for the poetic potential of explosion and destruction. Until his early death, Cripps built machines and interactive installations and realised pyrotechnical performances. He developed the thinking for his projects through the mediums of drawing and collage. This timely publication turns the spotlight on the cross-disciplinary character and multi-sensory nature of Cripps' work, particularly through its focus on the artist's drawings.
The catalogue includes essays by Lisa Le Feuvre, Dominic Johnson, Ally Raftery, Sandra Beate Reimann, David Toop, and Roland Wentzel.
Verlag für moderne Kunst ISBN: 9783903131910 softback RRP: £35.00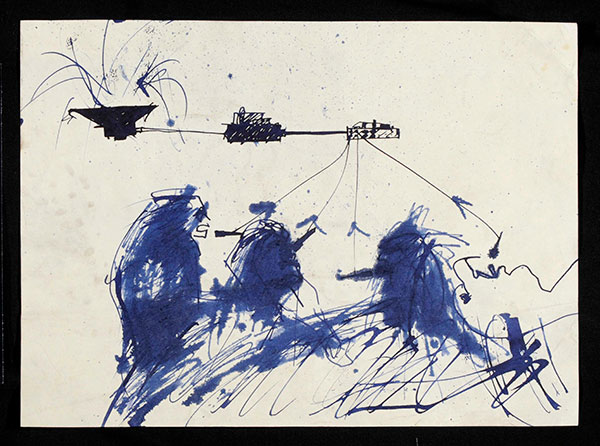 Stephen Cripps, Untitled, ink on paper, date unknown