Editor,
Searching for Art's New Publics
published by Intellect Books, 2010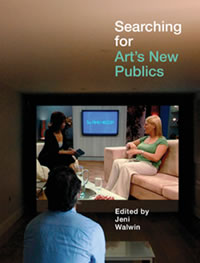 Drawing on contributions from practicing artists, writers, curators and academics, this book explores the ways in which artists seek to involve, create and engage with new and diverse audiences: from passers-by encountering and participating in the work unexpectedly, to professionals from other disciplines and members of particular communities who bring their own agendas to the work. Bridging the gap between practice and theory it draws on current debates around art in the public realm and it offers an illustrated artist-centred approach to many topical issues.
Contributors: Dave Beech, Will Bradley, David Briers, Jonathan Lahey Dronsfield, Harrell Fletcher, Vincent Honore, Sophie Hope, Juneau Projects, London Fieldworks, Graeme Miller, Paul O'Neill, Sally O'Reilly, Nina Pope, Marisa Sanchez, Helen Sumpter, Adam Sutherland.
Other artists featured: Nina Beier, Adam Dant, Chris Evans, Thomas Hirschhorn, Melanie Pappenheim, public works, Gillian Wearing