Wiltshire Council
Wiltshire Council commissioned Jeni Walwin to research and propose an Art Strategy for the re-modelled County Hall building. The focus for the research was to explore opportunities for increased access to the County's art collections and to recommend the most effective way of involving a contemporary artist in a commission for the new internal courtyard space.

Tania Kovats: GRAIN
commissioned by Wiltshire Council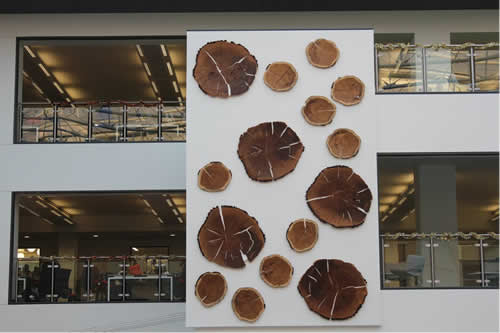 Tania Kovats, GRAIN, 2012, installation view, photograph Richard White
GRAIN comprises 15 sections of an oak tree from the Longleat Estate that came down in a storm. The tree was cut into roundels and the artist selected 15 pieces from the trunk and major branches. These sections were then dried and treated over a period of three months before the artist used a dipping pen and India ink to meticulously re-draw the 291 tree rings emphasizing the age of the tree. Each section was then waxed to draw out the colour and protect the ink.
"I see the County Hall building as an architectural embodiment of the link between the people and the state. Invariably these sorts of buildings can seem intimidating, and I hope that my work GRAIN will put the wrinkles, knots, scars and traces of life into the space. These roundels, with their aged rings, undulating cracks and marks of life, might possibly represent the full range of human experiences, symbolically echoing those rituals, rites of passage and activities processed by a local authority: be they celebratory (for wedding ceremonies or birth certificates); horribly difficult (like registering a death); or even prosaic (paying parking fines or working out how to get rid of bed bugs)." Tania Kovats
Wiltshire Collections

Fay Godwin's photographs of the Ridgeway are the starting point for a participatory project directed by Richard White at Wiltshire College. Using the Godwin landscapes as a trigger this project embraces contributions from individuals across the county, recalling favourite walks, memories of visits, sounds collected at key sites, and films and photographs of present-day Ridgeway. The resulting works can be viewed on screens in the new courtyard space. This project not only celebrates the Wiltshire Collections and the Wiltshire hills, but also makes the case for walking, for oral storytelling traditions, and it encourages greater appreciation of the history and geography of the local area.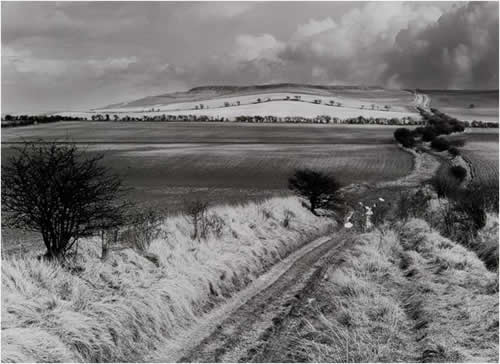 Fay Godwin, The Ridgeway, black and white photograph, 1975, courtesy Creasey Collection, Wiltshire Council