Neville Gabie, 'Experiments in Black and White', a commission for the 2014 WOMAD festival
Curated by Jeni Walwin and produced by Tammy Bedford Experiments in Black and White is an exploration of four materials – ice, chalk, oil and air. These four elements are fundamental aspects of the natural world and are variously contested and debated as we look to the future of the planet. There are three aspects to the project.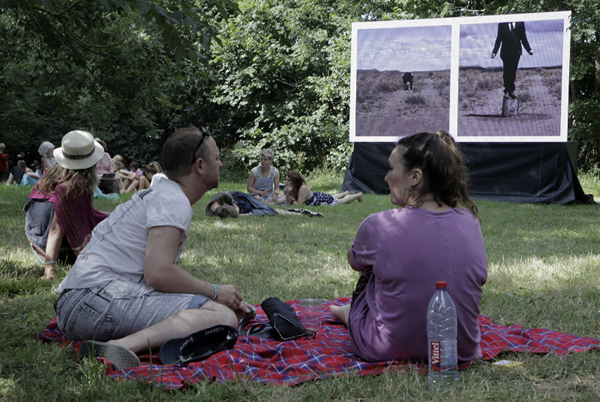 Neville Gabie, 'Experiments in Black and White, outdoor screenings
outdoor screening of short films
The five films feature the artist working with each of ice, chalk and oil, in arduous, physical performances which heighten our awareness of these vital natural elements.
performance drawing
The artist attaches a large chalk boulder to a rope and for an hour each day of the festival creates a linear drawing along the tarmac road that runs through the arboretum. The performance places the artist in direct physical proximity to many festival-goers as they make their way from the campsites to the main arena, and consequently the work itself is marked and extended by their activity.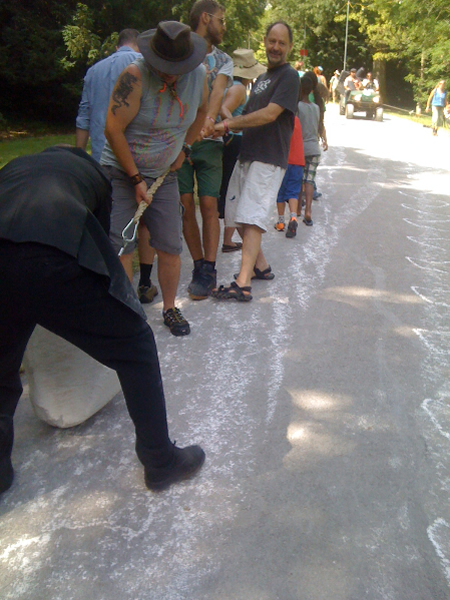 Neville Gabie, Performance chalk drawing

participatory project : Collective Breath
Visitors to the Collective Breath tent during the festival people were invited to fill a bag with their own breath. The artist created 1,111 opportunities to contribute to this project. Each participant was asked to write their postal address and to suggest where the 'collective breath' might be released. Air collected from the bags was then transferred to a pressurized container. Following the festival the artist travelled to one of the suggested locations, the Mace Head Observatory on the West Coast of Ireland, attached the pressurized vessel to a large, purpose-built sound instrument, released the air, and recorded the sound and action on film. Postcards with a photographic record of the event and a link to the website where the sound can be heard were then posted to all contributors.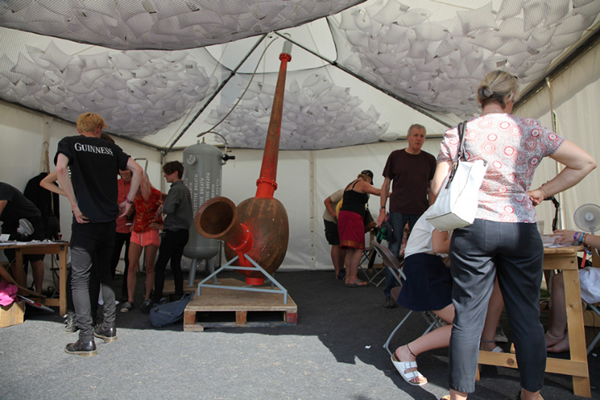 Neville Gabie, Collective Breath tent
The relationship to breath is a fundamental part of musical expression and connects here to the main focus of the WOMAD festival on the music stages. Talks on this subject by musicians, scientists and the artist were an integral element of the 'Collective Breath' project.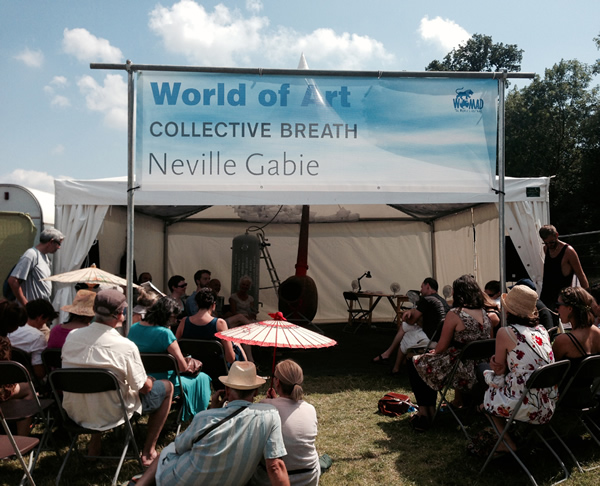 Neville Gabie, Collective Breath talks at the WOMAD festival