Let's Twist Again: Song and Sound in Artists' Films for the 2012 WOMAD festival
Jeni Walwin is the curator for this programme and with Tammy Bedford manages the delivery of the project.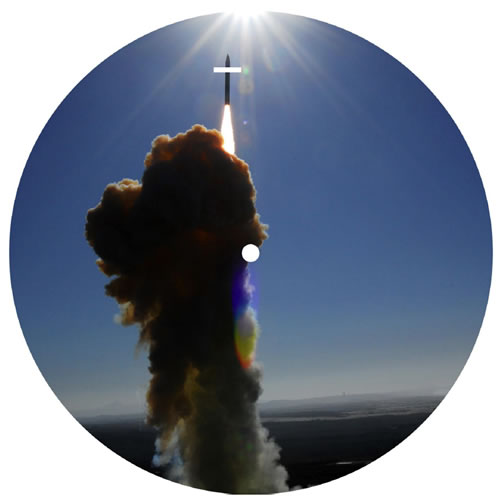 Mark Dean, Love Missile (7" vs 12"), 2010 (film still)
video projection, 2 speakers with dual mono sound, 2 video monitors
This year will be WOMAD's thirtieth anniversary and the title for the 2012 programme of artists' film installations, Let's Twist Again, makes reference to this moment. With a focus on the medium which is so central to the definition of WOMAD, this selection of films looks at the ways in which artists use sound. In mainstream cinema, music is used as a conventional method of heightening dramatic effect; however, this programme considers the means by which artists employ sound as a pivotal point in the making of the work. Sound is an integral and necessary component here. The films embrace song, popular music, composed sound and even found sound in a decisive way that unlocks the narrative within each work. The title also suggests a way of looking back, reaching over time, and re-working, re-presenting material, often from another era, giving the sound a new 'twist' when viewed in a different visual context. Artists featured in the project are: Mark Dean, Alonso Gil, Mikhail Karikis and Uriel Orlow, Lewis Klahr, Anri Sala, and Semiconductor.
There is an additional interactive element conceived in celebration of the festival's Thirtieth Anniversary. This work entitle The WOMAD Memory Twist has delved deep into the archives to select highlights and memorable moments in film and print. Visitors to previous WOMAD festivals have contributed their memories by posting texts and images on the WOMAD website. 2012 Ticket Holders have been invited to send in material. The submissions have been curated by Richard White at Creative Wiltshire and the project has been built and designed byAerian Studios.
Commissioned by World in the Park, for the WOMAD Festival
Launched: 27-29 July 2012
Links :
www.womad.org
www.tailbiter.com
www.semiconductorfilms.com
www.mikhailkarikis.com
www.alonsogil.com
www.hauserwirth.com/artists/26/anri-sala
www.lux.org.uk